Top prices paid for Complete scrap cars - Prompt collection
Simply enter a few details here and wait to receive our quote.
If you're happy with our offer we will arrange to collect your vehicle.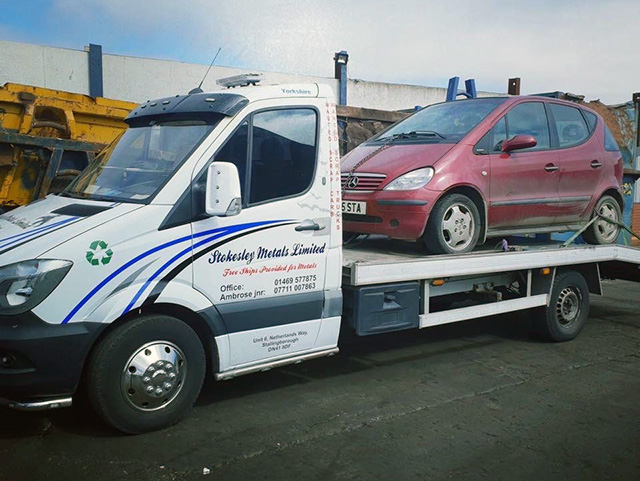 Or contact us on:
---
Office: 01469 577875
Mobile: 07711 007863
stokesleymetals@btconnect.com
---
---
Frequently Asked Questions
Why choose us?
Stokesley Metals Ltd is a specialist scrap metal merchant. We are proud to be a fourth generation, family owned and operated business.
Based in Stallingborough Lincolnshire, with easy access to the motorway network.
We are not brokers - we provide direct car recycling services from our own yard with collection by our own drivers.
We have invested heavily over the years so we can offer a very competitive price.
Did you know -
Your car should only be scrapped at an authorised treatment facility (ATF).
It's illegal and punishable by heavy fines in the UK to scrap your car at any other location.
Does my car have to be complete?
To get the best price possible your car has to be complete. This means it must have a catalytic converter, battery, wheels, and all other essential parts present.
Incomplete or damaged vehicles still have a value due to the various metals and materials they are constructed from - just not as much as a complete vehicle.
Either way, scrapping your car with us, allows you to contribute positively to the environment as well as getting your hands on some extra cash!
What about the paperwork?
If you have a car that your need to scrap, bring it in to us or arrange its collection, along with the registration document (V5 log book) and we'll do the rest.
As an authorised treatment facility, Stokesley Metals Ltd operate to the End of Life Vehicles Regulations 2003.
We will process your log book, notify the DVLA and issue you a certificate of destruction. Simple!
Don't risk it: Not only do we give you a good price for your scrap car, we do all the paperwork and give you complete peace of mind that the job has been done correctly and legally.
Keeping my personalised number
If you wish to retain your scrap car's licence plate number you'll need to do this
before you scrap your car
.
Details of what you need to do can be found on the personalised number plate page of the direct.gov website
click here
.
How do I get paid?
Stokesley Metals Ltd will only make payments by bank transfer or cheque.
The Scrap Metal Dealers Act 2013 made cash payments for scrap cars illegal in both England and Wales.
This was part of an effort to reduce car crime and prohibit the activities of unscrupulous scrap dealers.
Stokesley Metals Ltd never offer to pay for your scrap in cash.
What will happen to my scrapped car?
As an authorised treatment facility (ATF), you can be assured that Stokesley Metals Ltd have the correct equipment, processes and skill set, to de-commission your vehicle safely and correctly.
The depollution process The first step in scrapping your car is to extract the hazardous materials present. The car battery is removed, which contains acid that can cause blindness, and lead, which is poisonous when ingested. The fuel tank of your car will also be removed, along with any airbags fitted. Both of these parts are considered dangerous as they could explode. With air bags, this is caused by the chemicals they contain. In the case of fuel tanks, traces of petrol or diesel are highly flammable. Containing pyrotechnic charges, seat belt pretensioners are also removed for safety.
Disposing of fluids safely The fluids contained within your car must also be disposed of correctly. Remaining fuel, coolants, oils and anti-freeze can contaminate soil or the water supply if not dealt with properly. Car parts that come into contact with fluids and pollutants or contain them must also be removed. From your car's catalytic converter to its oil cap, all must be dismantled safely.
Recycling your tyres Your car's tyres will be removed for recycling and sent to a specialist centre. Only a limited number of tyres can be stored securely at our site at any one time for safety's sake. The material they're made from means that should they catch fire, a large quantity of tyres can burn at extremely high temperatures for several days.
Finally crushing your car With the depollution process fully complete, your car is ready to be safely crushed. All of its individual parts are separated by material classification including metal, fibre and plastic, then fully recycled.
Do you sell car parts?
We only scrap cars.
***WE DO NOT SELL PARTS***
We offer a FREE local Collection service when you scrap a vehicle with us
We give the best valuation for the vehicle, and take care of all the paperwork so you don't have to!
Further information on disposing of cars for scrap can be found on the Scrapping your Vehicle page of the
direct.gov website
click here
.
The Environment Agency website contains details of
Authorised Treatment Facilities
click here
.